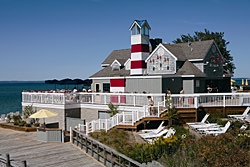 GLEN ARBOR, MI — Here's one election-year question to get excited about: If you could nominate your choice for the best resort you've ever visited, what name would you write on the ballot?
That was the question posed to the 222,500 readers of The Oakland Press in their 2008 "Best of the Best" Readers Choice Awards. After the votes were counted, The Homestead received top honors.
"The question was wide open. It didn't specify 'best resort in northern Michigan' or even Michigan in general," says Kary Archer, an advertising representative for the Pontiac- based daily serving Detroit and all of Oakland County. "So really, our readers could have named any resort they wanted."
The Reader's Choice Awards have been an annual event at The Oakland Press for the last five years, but this year's win is a first for The Homestead. "Best of the Best" winners were announced in a special tabloid section of The Oakland Press on Sunday, May 4th.
As this year's Readers Choice winner in the category of "resorts," The Homestead has exclusive rights to use the "1st Place, Best of the Best " logo in their advertising. But even more important is the satisfaction of knowing that the resort's spectacular accommodations have made a serious and memorable impact on the valued guests who have visited this amazing coastal retreat in the heart of the Sleeping Bear Dunes National Lakeshore.
"This award is a real honor because it comes from the people," says Jamie Jewell, Senior Manager at The Homestead. "It's also a validation of our commitment to delivering excellent service, programming, and facilities that are second to none."
At a time when many northern Michigan resorts are scaling back their services and amenities due to trying economic times, The Homestead is actually enjoying a period of exciting growth, according to Jewell. One major reason—an amazing number of repeat customers. About 80 percent of departing guests surveyed at The Homestead say that they plan to return.
"Bookings are up forty-percent over last year at this time," say Jewell. "We've expanded our guest services with the grand opening of our new spa and fitness center, our new wedding venues, and beautiful convention center. Plus, our Lifetime Skills Programs in tennis, golf, and fly fishing continue to be amazingly popular."
Media Contact:
Jamie Jewell 231.334.5524 or jamie@thehomesteadresort.com
Visit The Homestead Website >>>>